Adding some plaid pattern to your outfit could definitely turn it into a fun, bold and eye-catching one.
I have been wanting a comfy oversized plaid shirt for the longest… I really wanted a long flannel one, and I finally got it doing my Cyber Monday shopping at EXPRESS!
So you can just imaging how excited I was when I got my package in the mail 😉
I decided to wear it this weekend while running my errands. I had so much to do and I really wanted to wear a comfy outfit while I was running around in this cold weather.
I chose to pair it with winter leggings in a teal color, along with brown buckled booties and my denim/faux fur bag. I also added a long owl gold necklace with the matching earrings, both part of my jewelry collection.
I left my hair loose and for the Makeup, I wore neutral eyeshadows paired with a lovely soft brown lipstick.
If you are looking for a super comfy and stylish look, this would definitely be a great option!
My Outfit
 What I Wore?
Plaid Shirt in Red from EXPRESS; Winter Leggings in Teal; Double Buckle Bootie in Brown from EXPRESS; Fur Bag from Pose; Long Owl Gold Necklace with Matching Earrings, both part of Laksmi's Jewelry Collection.
 Plaid Pattern * Stylo 163♥ – My Youtube Video
 My Makeup
What Am I Wearing?
Pre Makeup: Make Up For Ever Primer; NYX Eye Primer; Graftobian Wheel Corrector. Makeup: Sephora Color My Life Tablet Eyeshadow Palette (Tan & Beige); Black Gel Eyeliner from NYX; No False Eyelashes; Bombshell Curvaceous Mascara (Very Black) from Cover Girl; Paula Dorf 2+1 For Brows; Anastasia Beverly Hills Eyebrow Highlighter; Urban Decay Naked Flushed Kit; MAC Cosmetics Lip Liner (Cork) & Lipstick (Photo); The Matchmaster Foundation from MAC Cosmetics & Setting Powder from Laura Mercier; Makeup For Ever HD Pressed Powder.
More Pics
☼
Add Some Plaid Pattern To Your Wardrobe For An Eye-catching Casual Look. You Can Wear An Oversized Plaid Shirt W/ Leggings And Cute Booties Just Like I Did!
I Love Fall and this is not a secret!
Besides being born in November, I have a deep passion for Fall and everything related to it, like its weather, its nature, its fashion and colors, as well as Halloween and Thanksgiving, and my so addictive and precious pumpkin spice coffee that comes around every year around this time.
I love Fall because is the season of preparation and anticipation to the Holidays.
This is why I chose to wear this "Love" sweater, creating a lay back fall look with it. 😉
I have this crop sweater since last year, and I love wearing it with high-rise pants, but this time I chose to wear it with my first longsleeve plaid shirt I ever got!
I know…I am little behind, but I never bought one before. I really wanted to get me one this year, and I found this one at Mandee's. I love the colors and the fabric as well. It is super cozy!
I added black pants, jeans looking, and a pair of black loafers.
To complete the look, I decided to wear this skull crossbody along with silver accessories mainly from my online store.
I think this is more of a hipster punk look, which I love, because it's a mix of two styles I really like and identify myself with a lot.
 My Outfit
What Am I Wearing?
Black Cropped Love Sweater from Love Culture; Flannel Plaid Shirt from Mandee; Black Jeans from New York & Company; Skull Crossbody with Studs in Black from Mandee; Anne Klein Drewe Loafers in Black.
 I Love Fall * Stylo 153♥ – My Youtube Video
My Makeup
 What Did I Use?
 Pre Makeup: Sephora Primer; Urban Decay Eye Primer; Graftobian Wheel Corrector. Makeup: Urban Decay NAKED Palette (Smog); Black Gel Eyeliner from Laura Mercier; False Eyelashes from MAC Cosmetics; Bombshell Curvaceous Mascara (Very Black) from Cover Girl; Anastasia Beverly Hills Brow Duo, Gel Brow & Highlighter; Urban Decay Naked Flushed Kit; MAC Cosmetics Lip Liner (Burgundy); Sephora Lipstick (Crush); Hi-Def Glamour Creme Foundation from Graftobian (Femme Fatale) & Setting Powder from Laura Mercier; Makeup For Ever HD Pressed Powder. Sinful Colors Nail color (Sugar Sugar).
 My Jewelry
Gold & Silver Charm Bracelet from Lakshmi's Closet
Blue Flowers Silver Bracelet from Lakshmi's Closet
 You can get these two cute and affordable bracelets right from my online store, by simply clicking on the links above!
☼
 More Pics
 ☼
Create A Superb Fall Outfit By Pairing A Crop Sweater W/ A Plaid Shirt & Loafers. Check Out My "I Love Fall" Post For Some Hipster Punk Autumn Outfit Inspo.
Plaid Shirts are a must have in our wardrobe. They are all over the stores in a variety of fabrics and colors. I personally love the flannel plaid shirts for winter time. They are cozy and perfect for a casual look. Last week I created my *Rosy's Knockout* Stylo and I incorporated a blue plaid shirt to the look. I paired it with leggings and pumps for a casual sexy outfit. Plaid shirts are commonly worn with jeans and they look awesome with flats, western or riding boots, pumps… basically any kind of shoes. This week I decided to bring you a few suggestions according to the fabric and of course, the price. Some of these plaid shirts are made out of a soft thin fabric and some are in a thicker flannel material.
DIP DYE PLAID SHIRT – Love Culture $32.90 (A colorful plaid shirt in a rad dip-dye featuring cutout shoulders and a front pocket)
Misfit Plaid Shirt – Nasty Gal $44.00 Was $88.00 ( A slouchy flannel shirt in a plaid print of red, black and gray featuring cutout shoulders)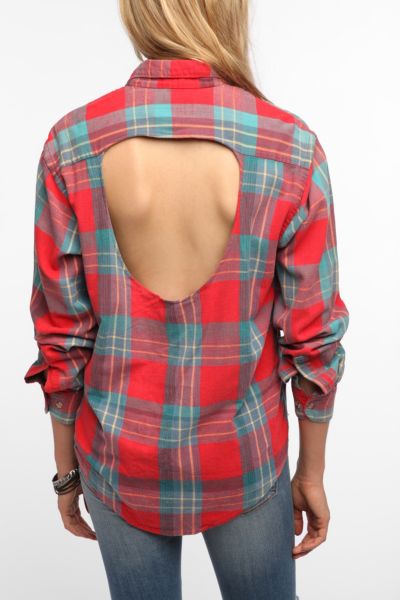 Urban Renewal Cut Out Back Flannel Shirt – URBAN OUTFITTERS $39 ( Button front closure with a cutout at the back. Tone of plaid will vary, making yours one-of-a-kind)
STUDDED FLANNEL SHIRT – Love Culture $28.90 (Soft long sleeves flannel shirt with gold studded pockets)
Plaid Denim Accent Shirt – GoJane $31.50 (This flannel plaid shirt features denim accents, chest pockets and buttons on the sleeves for easy cuffing)
Longsleeve Stud Check Shirt – Topshop $72 (Long sleeves plaid shirt with front stud yoke detail)
Plaid Mesh Studded Shirt – GoJane $31.50 (Plaid shirt that presents studs, mesh insets and two chest pockets)
Mossimo Supply Co. Juniors Long Sleeve Plaid Shirt – Target $12.58 Was $17.99 (Plaid shirt with two front pockets in two colors: Yellow Plaid & Teal/Purple Plaid-shown)
*Rosy's Knockout* Stylo is a resemblance of the retro pin up style from the 40's, specifically representing 'Rosie the Riveter', a story that highlights the effort and strength of the hard working american women during War World II. Rosie is a cultural icon of that time represented by a woman wearing a red bandana  and working attire. I am a big fan of strong women and I have a lot of respect for the ones who have changed the course of History.
This week I was in a mission looking for a berét in a unusual color and I decided to go to the Burlington Coat Factory in Wayne, NJ. They used to have a big selection on different kind of hats. When I got there I saw a bunch of clearance racks, and since I couldn't find my hat I decided to go through those racks to see what they had. I love getting leggings in different colors and patterns from the usual black and gray, so I spotted the winter leggings that I am wearing and they immediately caught my eyes because of the color. I also have been looking for a plaid shirt for a while, and I found this one since the colors caught my attention right away. But it wasn't until I got home that I noticed the shirt and leggings went together. Then my red pumps popped in my head and of course 'vintage' and 'retro' words with it. That's how the whole look came up, including adding the bandana and the black eyeliner/red lips makeup. I feel this is a comfy but very eyecatching look for those who love the vintage and retro pin up influence in their outfits.
Blue Plaid Shirt ($9.99) and Ocean Teal Leggings ($7.99) from Burlington Coat Factory; GWRAPINE3 Red Pumps from GUESS; Black Lace Socks from Jessica Simpson; Newlyn Guess Bag in Jade Multi $118; Red Bandana; Studs Earrings and Silver Flowered Bracelet from Mon Rêve Jewelry.
NAKED Palette from Urban Decay (Naked); Gel Eyeliner from Maybelline EyeStudio (Blackest Black); XXL Pro Mascara Step1 & The Falsies Mascara from Maybelline; Big Fatty Mascara from Urban Decay; Bronzer from Bobbi Brown (brownie); MAC Cosmetics Lipsticks (Viva Glam B20 & Amplified Heartless); Studio Tech Foundation & Studio Fix Compact Powder from MAC Cosmetics. Nail color from Sinful Colors Professional (Sugar Sugar #839).
*Rosy's Knockout* Stylo is a resemblance of the retro style from the 40's represented by 'Rosie the Riveter', wearing a Red Bandana, Cat Eyes and Red Lips. Watch this Video Tutorial and see how I paired a comfy and colorful Plaid Shirt with Teal Winter Leggings and Red Pumps with Lace Socks.